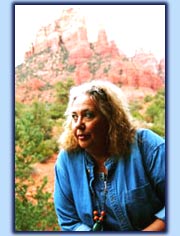 11th June 2015
150628 – EB – Mary Electra
http://www.maryelectra.com/home.html

Internationally known spiritual teacher and tonal alchemist, Mary Electra is a master of enhancing the intention of the healing process, individually and globally.
Mary works on various dimensional levels, using techniques such as toning, breath-work, bodywork, tarot and spiritual counseling. Ancient healing vibrations manifest through her and she is inspired by the spiritual vibrations of many masters i.e., Mary Magdalena, the Christ Consciousness, Sai Baba, Baba Ji, Mother Mary, as well as other inter-dimensional beings.
When Mary began her journey with sound she was guided to travel the world using her unique inner-dimensional sounds to unlock ancient wisdom and open portals at many of the sacred sites…this led to working with people to open the portals to their higher dimensional selves…
.She has worked with groups at sacred sites in the Yucatan, England, Ireland, New Zealand and Mt Shasta with life changing results…
Several years ago she was inspired to create this workshop/retreat.
This format will enable people to work closely with each other with an intention of bringing each individual to a deeper connection with their divine self…